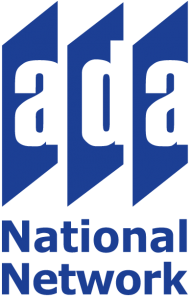 ADA NATIONAL NETWORK
Ten regional centers provide information, guidance, and training on the ADA
The Americans with Disabilities Act (ADA) became law in 1990. The ADA is a civil rights law that prohibits discrimination against individuals with disabilities in all areas of public life, including jobs, schools, transportation, and all public and private places that are open to the general public. The purpose of the law is to make sure that people with disabilities have the same rights and opportunities as everyone else. The ADA gives civil rights protections to individuals with disabilities similar to those provided to individuals on the basis of race, color, sex, national origin, age, and religion. It guarantees equal opportunity for individuals with disabilities in public accommodations, employment, transportation, state and local government services, and telecommunications. The ADA is divided into five titles (or sections) that relate to different areas of public life.
Life, Liberty, And A Gluten-Free Meal (2019)| From Converge Blog
The Americans with Disabilities Act (ADA) was enacted in 1990 to prevent discrimination against individuals with disabilities in all aspects of life. The Act has been applied to a variety of segments of our society, including building entrance designs, website displays, and workplace accommodations. Recently, a new twist to the Act arose when a 12-year-old boy visited a Colonial Williamsburg restaurant with his classmates on a school field trip.
What Employee Accommodations Are Required Under the ADA? (2019)| From Converge Blog
The federal American with Disabilities Act ("ADA") and many similar state laws require employers to "reasonably" accommodate an otherwise qualified disabled applicant or employee to perform the essential job functions of the position or enjoy equal benefits of employment as similarly situated employees. Similarly, other federal and state civil rights statutes prohibiting discrimination based on gender, religion, and race require an employer to accommodate an employee's reasonable request for schedule changes, dress, and grooming practices due to religious beliefs or gender identity. The law also requires employers to reasonably accommodate pregnant employees. The issue of whether the employer must accommodate gender non-conforming or non-binary employees has not yet been fully resolved by the trend is to required such accommodations.
How to Best Avoid or Defend an ADA DriveBy Lawsuit (2019)
Federal court lawsuits filed under Title III of the Americans with Disabilities Act (ADA) hit a new high last year, increasing 34% from the previous year, and more than tripling over the last five years. 1 Franchisors and franchisees are frequently defendants in these lawsuits. Plaintiffs' entitlement to attorneys' fees under the ADA has created a cottage industry of plaintiffs' attorneys seeking to cash in on the ease by which they can identify a violation and extract a cost-of-defense settlement requiring remediation
New Wave of ADA Website Lawsuits (2018)| From Converge Blog
Recently, there have been a slew of lawsuits filed across the country alleging that owners and operators of hotels and other places of lodging are using websites that violate the Americans with Disabilities Act ("ADA"). These lawsuits are different than the wave of lawsuits and demand letters sent to so many hotels and other places of public accommodation the last few years alleging that those companies failed to make their websites accessible for users with visual, hearing and physical impairments by not adhering to the Web Content Accessibility Guidelines (WCAG). (For more information about the WCAG issue, check out our prior posts on that issue here and here.)
At Your Service (2015)
The Mid-Atlantic ADA Center has partnered with Storyline Motion Pictures (filmmakers of the critically acclaimed PBS documentary Lives Worth Living, and curators of the Disability Rights Museum on Wheels), to produce this dynamic new twenty minute customer service film "at your service".
Call to Houston Motel 6 leads to class-action lawsuit (2013)
A disabled Army veteran has filed a class-action lawsuit against the parent company of Motel 6, alleging that the hotel chain does not comply with the Americans With Disabilities Act. In the lawsuit filed in the South District of Texas in Houston, plaintiff Dana Bowman alleges that he called a Motel 6 in Houston prior to a business trip and asked if the hotel's pools had access facilities for the disabled. The motel's staff informed him that there were no such facilities there, according to the suit. Bowman, a retired Army sergeant first class, filed the class-action lawsuit on May 20 against G6 Hospitality Property LLC, parent company of Motel 6.
The Americans with Disabilities Act Public Accommodations (2010)
The Americans with Disabilities Act (ADA) established a new protected class, aimed at ensuring that individuals with disabilities are more fully included in all segments of society. Title I of the ADA deals with the employment aspects of the law. The rights and obligations of employers under Title I were outlined in a previous booklet in this series.
Recent Developments Under The Americans with Disabilities Act (2009) 
The Americans with Disabilities Act (ADA) is divided into three general categories, two of which directly affect hoteliers. Title I of the ADA prohibits employment discrimination against qualified individuals with disabilities. Title III prohibits discrimination in places of public accommodation, including hotels, against individuals with disabilities. This paper addresses recent developments under Title I.
ADA Business Brief: Communicating with Guests who are Deaf or Hard of Hearing in Hotels, Motels, and Other Places of Transient Lodging (2003)
People who are deaf or hard of hearing use a variety of ways to communicate. Some rely on sign language interpreters or assistive listening devices; some rely primarily on written messages. Many can speak but are not able to hear words spoken by others. The method of communication and the services or aids hotel staff must provide will vary depending upon the abilities of the guest and on the complexity and nature of the communications that are required. Under the Americans with Disabilities Act (ADA), hotels and motels must provide effective means of communications for persons who are deaf or hard of hearing to ensure that they have an equal opportunity to enjoy the goods, services, accommodations, and amenities offered.
Service Animals, Assistance Animals, Comfort Animals- And The Occasional Miniture Horse (2019)| From Converge Blog
Given the menagerie of terms, it is easy to see why some business owners are quite confused about what to do when they are asked to permit an animal in their places of business. Part of the confusion comes from the multitude of federal laws on the topic (not to mention laws passed by some state and local governments). There is one for housing providers, another for those providing goods and services, yet another for airlines, and finally, one for employers. Another reason for the confusion is that these laws often use similar terms that have slightly different meanings.
A Discussion of Recent ADA And FMLA Cases And Their Practical Implications (2019)| From Converge Blog
In 2018, the Department of Labor released two significant opinion letters demonstrating its interpretation of the Family and Medical Leave Act. In FMLA2018-2- A, the DOL determined that an organ donor is entitled to FMLA leave when the donation involves either inpatient care or continuing treatment. In FMLA2018-1-A, the DOL clarified how employers need to balance no-fault attendance policies with an employee's FMLA leave, stating that employers may "freeze" an employee's attendance points while they are on leave. In 2019, the DOL released FMLA2019-1-A, which asserts that employees cannot decline FMLA leave or force employers to classify FMLA qualifying leave as another form of leave.
How to Comply with the Americans with Disabilities Act: A Guide for Restaurants and Other Food Service Employers (2019) 
The Americans with Disabilities Act (ADA) is a federal civil rights law that applies to people with disabilities and protects them from discrimination. The Equal Employment Opportunity Commission (EEOC), a Federal government agency, enforces the sections of the ADA that prohibit employment discrimination. This Guide explains these ADA employment rules for the food service industry. The ADA is important to food service employers and employees. Food service employers must avoid discriminating against people with disabilities while obeying strict public health rules. Food service workers with disabilities have rights under the ADA when applying for jobs or when working for a restaurant, cafeteria, or other food service employer.
Recent Verdict Strenghthens The Growing Need for Websites to Increase Accessibility to Disabled Individuals (2017) | From Converge Blog
A recent case in federal district court in Florida foreshadows the beginning of an expanded reach of Title III of the Americans with Disabilities Act (ADA). As a whole, the Act prohibits discrimination on the basis of disability. Recently, a growing number of lawsuits filed by the Department of Justice (DOJ) and private litigants threatening class action lawsuits serves as a strong caution to businesses operating websites to increase accessibility of those sites to disabled individuals.
A Guide to Planning Accessible Meetings (2015)
Welcome to the updated, digital version of A Guide to Planning Accessible Meetings, originally published by Independent Living Research Utilization in 1993, written by co­-authors June Isaacson Kailes and Darrell Jones. The Mid­-Atlantic ADA Center and TransCen, Inc. sponsored this update and publication in recognition of the 25th anniversary of the transformational Americans with Disabilities Act (ADA) of 1990. This version includes regulatory updates along with practical guidance from a host of meeting planning professionals, subject matter experts, and even June Kailes herself.
This Time We Mean Next Spring! The New ADA Accessibility Standards + Additional US Department of Justice Regulations Update for the Hospitality Industry (2011)
Just a few years after the passage of the Americans with Disabilities Act it had become clear that there was a need to change the ADA, to update the design and construction requirements, and to amend other regulations that impact places of public accommodations to reflect the experience gained in that time period. The U.S. Access Board and Department of Justice (DOJ) began to review the law.
Accessible Customer Service Practices for Hotel and Lodging Guests with Disabilities (2006)
People with disabilities, in the United States and around the world, travel for both business and pleasure and regularly patronize hotels. Statistics indicate the enormous size of this prospective market. The U.S. Census Bureau's 2002 Survey of Income and Program Participation (SIPP) found that there are 51.2 million people with disabilities in the United States. To put that number into perspective, the 2002 SIPP indicates that the U.S. population's percentage of people with disabilities is 18.1 percent. (1) That is larger than the percentage of Hispanic Americans in the U.S. population (13.3%), the country's largest ethnic, racial, or cultural minority group.
Americans with Disabilities Act: Guide for Places of Lodging: Serving Guests Who are Blind or Who Have Low Vision (2001)
The Americans with Disabilities Act (ADA) requires places of public accommodation, including hotels, motels, and other places of transient lodging, to ensure that everyone regardless of disability has an equal opportunity to enjoy their services and facilities. Your establishment is covered by the ADA as a place of public accommodation if it is a private entity and is a place of lodging (including inns, hotels, and motels), regardless of whether it is a for-profit or nonprofit establishment. The ADA does not cover owner-occupied establishments renting five or fewer rooms
NEW REGULATIONS - FACT SHEETS