Climate protests have gained traction in Europe in the past six months. Various eco-activist groups and individuals are protesting perceived inaction by governments and corporations to avert climate-related disasters. Eco-activists, including groups like Extinction Rebellion and Smash Cruises, have staged frequent and intensely disruptive actions throughout Europe in the past several months. These actions have disrupted ground and air transit routes throughout Europe but have so far remained peaceful. These groups are likely to continue to gain support in the coming months and may find individuals willing to engage in more disruptive and potentially violent actions in the medium and long term.
Background of Eco-activism
Mainstream climate activist groups like Greenpeace and more-covert groups like the Earth Liberation Front have been active for several decades. Their actions have included raising awareness, staging protests, disrupting fishing industries, and occasionally acts of arson. Climate activists have been generally committed to nonviolence and bottom-up change, especially because their ideas generally are well-accepted by the population and politicians in Western Europe and North America.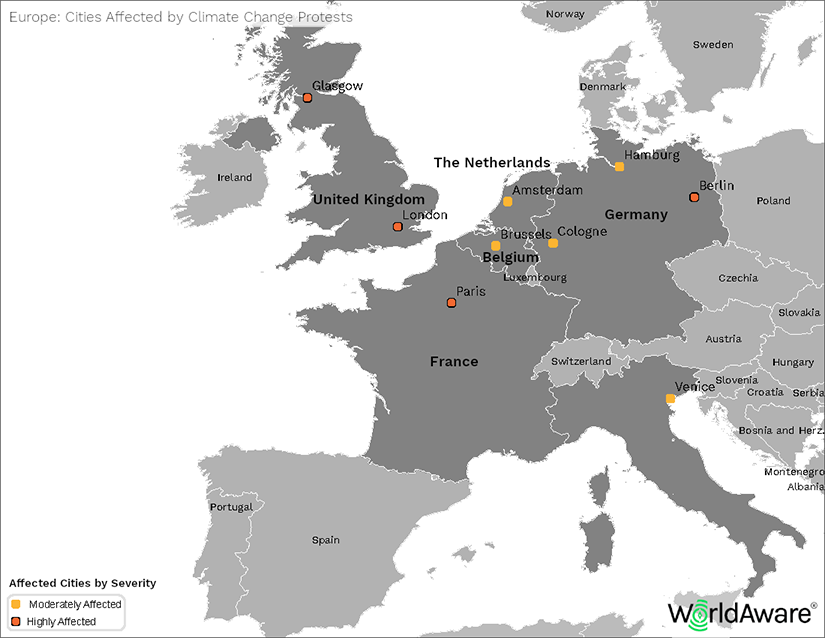 Contemporary Activism in Europe
New actors have emerged on the eco-activism scene over the past year in response to the increased visibility of climate change effects and a growing public perception that government responses are inadequate. These activists have, in a very short time frame, secured a large number of followers and brought substantial attention to the threats posed by climate change. Greta Thurnberg, a 16-year-old climate activist from Sweden, who began protesting outside the Swedish parliament in August 2018 to raise awareness on the need for immediate action to combat climate change, has over 2 million followers on Instagram and has attracted worldwide attention. Extinction Rebellion, a climate movement formed in October 2018, already has 250,000 followers on Instagram and has chapters all over the world. In the world of political activism on Instagram, this number of followers is significant, and has also grown rapidly; they have each amassed hundreds of thousands of followers in less than a year. This demonstrates interest among the population in following these types of accounts.
Both Thurnberg and Extinction Rebellion have directly or indirectly contributed to various climate activism actions. Students from across Europe, inspired by Greta, have protested every Friday since August 2018 under the motto "Fridays for Future" and gained traction when they skipped school for a day to take part in large demonstrations calling for action on climate change. Extinction Rebellion has staged disruptive actions in multiple counties, but primarily in the UK. The UK protests include blocking roads during rush hours and a demonstration in front of the Scottish Parliament when some activists chained themselves to street poles. Other, smaller grassroots organizations have undertaken similar actions. Smasscruiseshit, a small group of activists from Germany, used boats to block a large cruise ship in the port of Hamburg, Germany as they demanded curbs on the emissions caused by the cruise industry. Additionally, thousands in Venice protested the environmental damage caused to the Venetian lagoon by cruise ships.
So far, although disruptive, these actions have not caused significant property damage. Most of the actions are advertised on social media, which allows travelers to be warned in time to avoid disruptions. However, with momentum on the side of climate activists, actions are likely to become larger and more disruptive in the long and medium-term. This larger scale of action will likely cause it to be more difficult for travelers and businesses to avoid disruptive actions undertaken by climate activists.
Future of the Movement
Growing participation and frustration with the lack of results that peaceful activism is producing may undermine climate activism's commitment to non-violence. The central grievance of many climate activist groups, the notion of a climate catastrophe that could result in food shortages, drought, and tens of millions of ecological refugees, has strengthened and encouraged the activists' perceived need to act attention and more visibility. This resolve could lead eco-activists to undertake more drastic actions such as engage in sabotage, arson, and usage of improvised explosive devices against governments and large corporations, especially corporations that cause significant pollution and or contribute to the perceived climate catastrophe. More radical elements of the climate activism movement would commit to these sorts of attacks to draw more attention and visibility to their cause. Such attacks would become more likely if demands for more climate protection are not met. Travelers should avoid all protests as a routine security precaution and to mitigate associated disruptions. Those in the Europe should follow alerts for demonstrations and activities that might cause disruptions to supply chains. It would also behoove companies to monitor disruptive climate activism events in countries where they have assets.
---
---